Man people ask, can you play google play games on pc? Google has made a recent declaration that games from Android can now be experienced on Windows computers through a desktop application named Google Play Games. The process is essentially the same as downloading an app on your Android phone, except you do it on your PC through the emulator.
You can find free games such as the 1945 Air Force, Cookie Run: Kingdom, Blade Idle, Evony: The King's Return, and Genshin Impact that you can play without paying. Most games are like "take one, it's free!" at a candy store – just download and you're good to go. But, heads up, some of them come with these little temptations called in-app purchases.
So, you can snag the game for free, but once you're in, there's extra stuff like cool gear, characters, or levels that you can buy to amp up the fun. Google offers around 100 games and may add more in the future.
How Do Google Play Games Work?
Google Play Games is a multifaceted platform that amalgamates a variety of prime features cherished by gaming enthusiasts, including cloud-based save functionality, multiplayer gaming capabilities, achievements, and a plethora of additional aspects. It's essentially Google's response to Apple's Game Center – a hub where Android users can discover different games, compete with friends, and continue playing across all their devices.
Think of it as a streamlined, unified interface where you can track your gaming progress, achievements, and preferences. Now, the best part? Google Play Games isn't just limited to mobile devices. Additionally, it operates on Windows PCs, paving the way for an elevated gaming experience. It enables you to indulge in your beloved mobile games with the added comfort and ease of a larger display, enhanced visuals, and more accurate control mechanisms.
Where is the Google Play Games App Available?
The company introduced the Google Play Games Beta program in 2022, available in over 50 countries worldwide. New Zealand and whopping 40-plus European countries are now in on the action! We're talking about France, Austria, Spain, the Netherlands, Belgium, and the UK, to name just a few. But get this – before all these countries joined the party, the project was exclusive, like a VIP club, with only 13 countries on the list. The cool kids included Hong Kong, Australia, South Korea, Japan, and the US. Now, the doors are wide open for a whole bunch more!
The Google Play Games app is primarily available through Google Play Points for Android devices. It's also available for Windows computers through third-party applications such as MEmu Play. These nifty little programs are like magicians turning your Windows PC into an Android wonderland. Poof! Suddenly, you're all set to dive into Google Play Games and, hold on to your keyboard, a treasure trove of Android apps and games right on your computer.
Android emulators are usually cool and safe, but you gotta play it smart – grab them from the official sites so you don't accidentally invite any cyber boogeymen onto your device. Like any other software, constantly update your emulator for the best performance and security.
How to Get the Google Play Games for PC App
Downloading the Google Play Games for PC app is a pretty straightforward process. The first step is downloading and installing an Android emulator like MEmu Play on your PC. After the emulator's all set up, fire that baby up and log in with your Google account. Don't have one? No sweat, you'll need to make one. It's like getting a VIP pass to the party!
Once logged in, navigate to the Google Play Store within the emulator. You can search for and download the Google Play Games app from there. It's pretty much like grabbing an app on your Android phone, but picture doing it on your PC using the emulator as your wingman. Easy peasy!
Understanding the Minimum System Requirements
Google Play Games opens up a vast universe of Android gaming on your PC. But wait, before you dive into the gaming ocean, make sure your PC isn't riding the struggle bus. You gotta know the minimum system requirements to run Google Play Games on your PC. Think of it like making sure your car's got the juice before hitting the road. Below, we break down these requirements.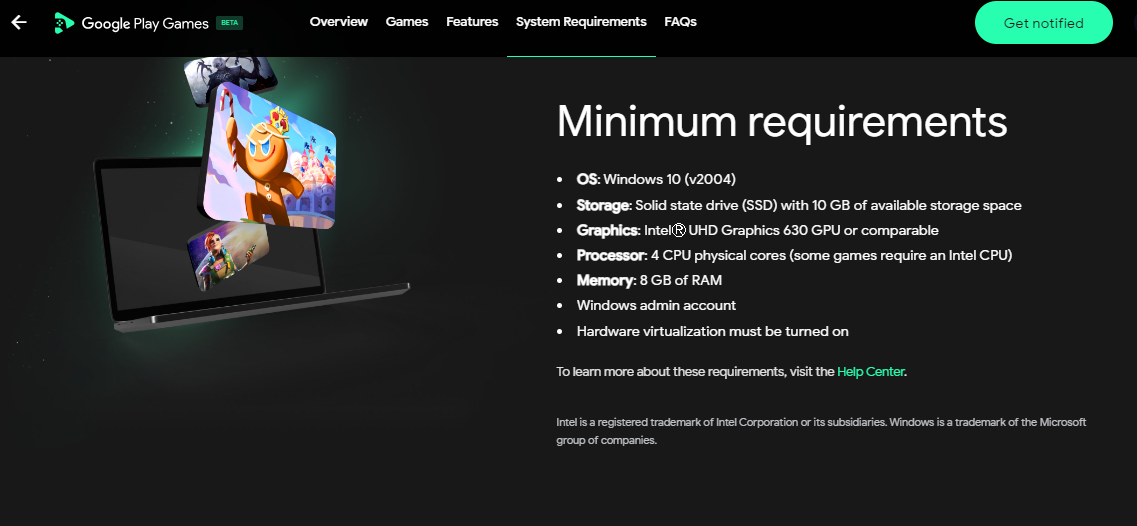 Operating System
Your PC must run Windows 10 or higher to run Google Play Games effectively. Even though the app might put on its superhero cape and work on the grandpa versions of Windows, Microsoft ain't sending those versions any love or support anymore. So, it's kinda like using an old map when there's a GPS; not the best idea.
Processor
While specific requirements can vary depending on your Android emulator, a minimum of Intel or 4 CPU Physical cores, while some require 8 logical cores (with Virtualization Technology support preferred) is generally recommended to run Android applications on a PC. For optimal performance, a newer and more powerful processor is preferable.
RAM
Your PC should have at least 8 GB of RAM to run Google Play Games smoothly. Make sure your PC's been hitting the gym – it needs at least 8 GB of RAM muscles to run Google Play Games without breaking a sweat. However, for a more optimal gaming experience, especially for more resource-intensive games, 16 GB or more is recommended.
Storage
Having at least SSD 10 GB of free disk space is recommended to install the emulator and Google Play Games. Keep in mind that each game you install will require additional storage.
Graphics
An integrated GPU is like riding a bike, it'll get you there. But a dedicated GPU is like cruising in a sports car, especially for those snazzy high-def games. Ensure your graphics drivers are as fresh as morning coffee for the slickest ride in gaming town.
Internet Connection
You're gonna need a rock-solid internet connection, like a digital superhero, to download and install the emulator, Google Play Games, and all those awesome games you're eyeing.
Other Considerations
In addition to the minimum system requirements, you should consider several other considerations. For example, ensuring you have the latest version of your chosen emulator installed on your PC is essential. Also, updating Windows and regularly running anti-virus scans can help to ensure optimal performance and protect your system from potential security risks.
Higher specifications are always beneficial for a more seamless and enjoyable gaming experience. Always remember to keep your system updated for the best security and performance.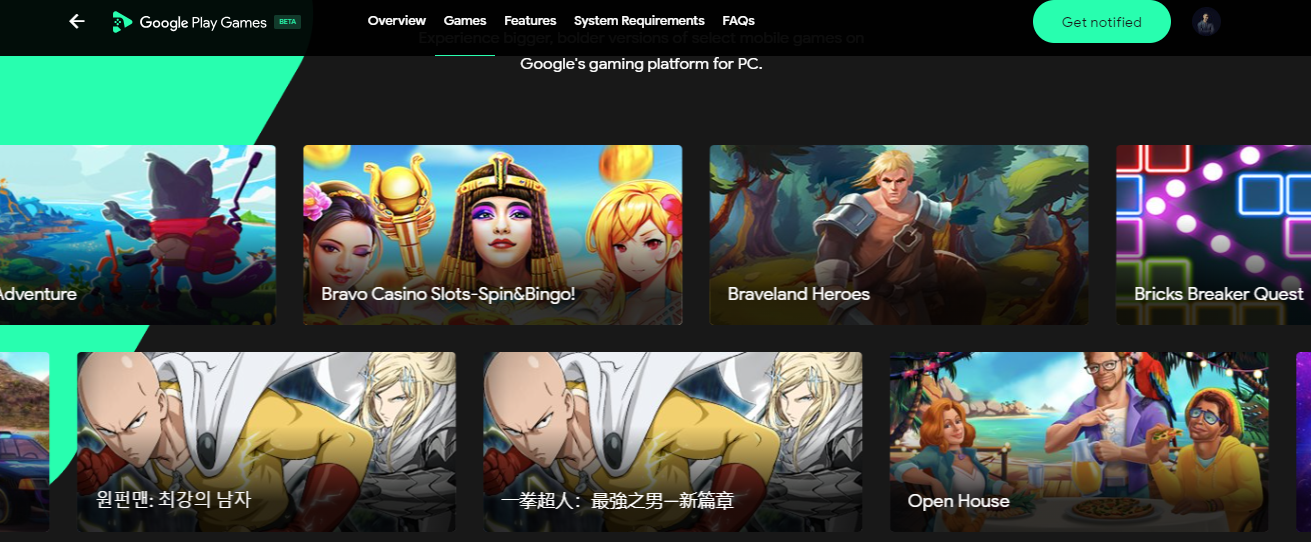 How to Play Android Games on PC with Google Play Games
Now that you have Google Play Games downloaded and installed on your emulator, playing Android games on your PC is a breeze. After launching Google Play Games, you can browse and select any game that tickles your fancy. Click 'Install' just as you would on an Android device. After the game installs, click 'Open,' and voila! You're ready to play your favorite Android game on your PC!
Features of Google Play Games on PC
One of the best parts about playing Android games on your PC is the enhanced features you get. First and foremost, you enjoy your games on a larger screen, often creating a more immersive and detailed gaming experience.
Secondly, you benefit from the superior control that a keyboard and mouse provide over touchscreen controls. For games that require precise controls, this can be a game-changer. Additionally, your PC's superior hardware can often provide a smoother gaming experience than a smartphone, especially for more demanding games.
Screenshots & Video of Google Play Games PC
Capturing your high scores, epic game moments, or how-to guides is easier than ever on PC. Use the screenshot function of your emulator to capture a still image of your game. Many emulators include a screen recording feature for video, allowing you to capture your gameplay in real time.
Game Info
While browsing for games on Google Play Games, you can easily access information about each game. Click on a game for its description, reviews, rating, game developers' info, and more. This feature helps you choose which games to download and play.
How to Download Google Play Games on a PC
Downloading Google Play Games on your PC is pretty straightforward. You first need to download an Android emulator like MEmu Play. After installing and opening the emulator, navigate to the Google Play Store within the emulator and sign in to your Google account. Then, search for Google Play Games in the Google Play Store and select mobile games and click 'Install.' The app will download and install onto the emulator as on your Android device.
Why Use MEmu for Google Play Games
MEmu Play is a popular choice among gamers for several reasons. It's lightweight and won't strain your PC's resources too much. It also offers vital mapping, a feature that allows you to assign certain game actions to specific keys, giving you better control and a more comfortable gaming experience. Plus, MEmu supports high-definition graphics, providing an excellent visual experience.
Ready to Play?
Now that you've downloaded and installed Google Play Games on your PC, you can play your favorite Android games. Dive into the vast game library on Google Play Games, and start enjoying them on your PC!
More From Google LLC
Google LLC has developed many applications and services beyond Google Play Games. These include Google Photos, Google Drive, Google Maps, and many more. Explore these applications for an enhanced Google ecosystem experience.
Similar to Google Play Games
If you're seeking similar platforms to Google Play Games, you might want to check out Steam or the Epic Games Store. These platforms offer a vast collection of games for PC gamers.
Hot Topics
Stay updated with the latest news in the gaming world with the 'Hot Topics' section. You'll find articles and discussions about the newest games, updates, and gaming trends here.
How to Utilize Google Play Games on a PC
Are you an Android gaming wizard dreaming of playing your fave games on a big screen with controls that make you feel like a boss? You're at the right party! Google Play Games, which is like a magical kingdom run by Google for Android games, can also be your playground on a PC. Let's get the ball rolling with the MEmu Android emulator. Here's how:
Step 1: Grab MEmu and Get It Running
MEmu is this cool Android emulator like a bridge from Android-ville to PC-town. First thing first, go to the official MEmu website, find the 'Download' button (can't miss it!), and let the downloading magic begin.
Once it's downloaded, open up the installer and let it guide you – it's like installing pretty much any other software. When it's all set, fire up MEmu!
Step 2: Knock on Google Play Store's Door
With MEmu up and running, you'll see something that looks like an Android tablet. Keep an eye out for Google Play Store – it's one of the apps that come pre-installed.
Give the Google Play Store icon a click to open it. The first time, it'll ask you to sign in to your Google account. Got an account? Type in your email and password. If not, no worries, just click 'Create account' and follow the cues.
Step 3: Get Google Play Games on Board
After you're logged in, there's a search bar up top in the Google Play Store. Type in 'Google Play Games' and hit enter. The first thing that pops up should be what you're looking for.
Hit the 'Install' button. It'll start downloading and installing Google Play Games onto MEmu. Feels like getting an app on your Android, right?
Step 4: Let the Games Begin!
With Google Play Games ready to rock, it's gaming time! You can open Google Play Games to browse and snag games or get games directly from the Google Play Store.
When you launch a game, it'll run in MEmu, letting you live the Android gaming life on your PC. And get this, you can tweak the controls in MEmu for that perfect gaming groove. If you hit any snags with Google Play Games, especially if you've used other emulators before, you might need to turn off the Windows Hypervisor Platform.
Final Words
Playing Google Play Games on your PC with MEmu is a great way to enjoy Android gaming with better control, smoother performance, and higher-quality graphics. With this guide, you should have no trouble getting started.
Google Play Games on PC created a bridge between Android and PC gaming worlds. You can now experience the best of both platforms, thanks to MEmu and Google Play Games. Have fun and enjoy the experience of playing Android games on a larger screen. Good luck!